About 25,000 people were killed in the terrible earthquake in Turkey. In addition, there has been extensive damage in the country. And Bangladesh stands by Turkey in this incident. Citizens of Bangladesh are supporting Turkey at official and private level. Even Bangladeshi Army, Civil Defense and Fire Service members have directly participated in the rescue work.
Turkish media is portraying this love of Bangladesh towards Turkey. Anadolu Agency, the official news agency of the country, has repeatedly highlighted the support and love of Bangladesh in several news.
The news headlined 'Bangladeshis Help Turkey Earthquake Victims' said the people of Bangladesh have been donating generously to help earthquake victims.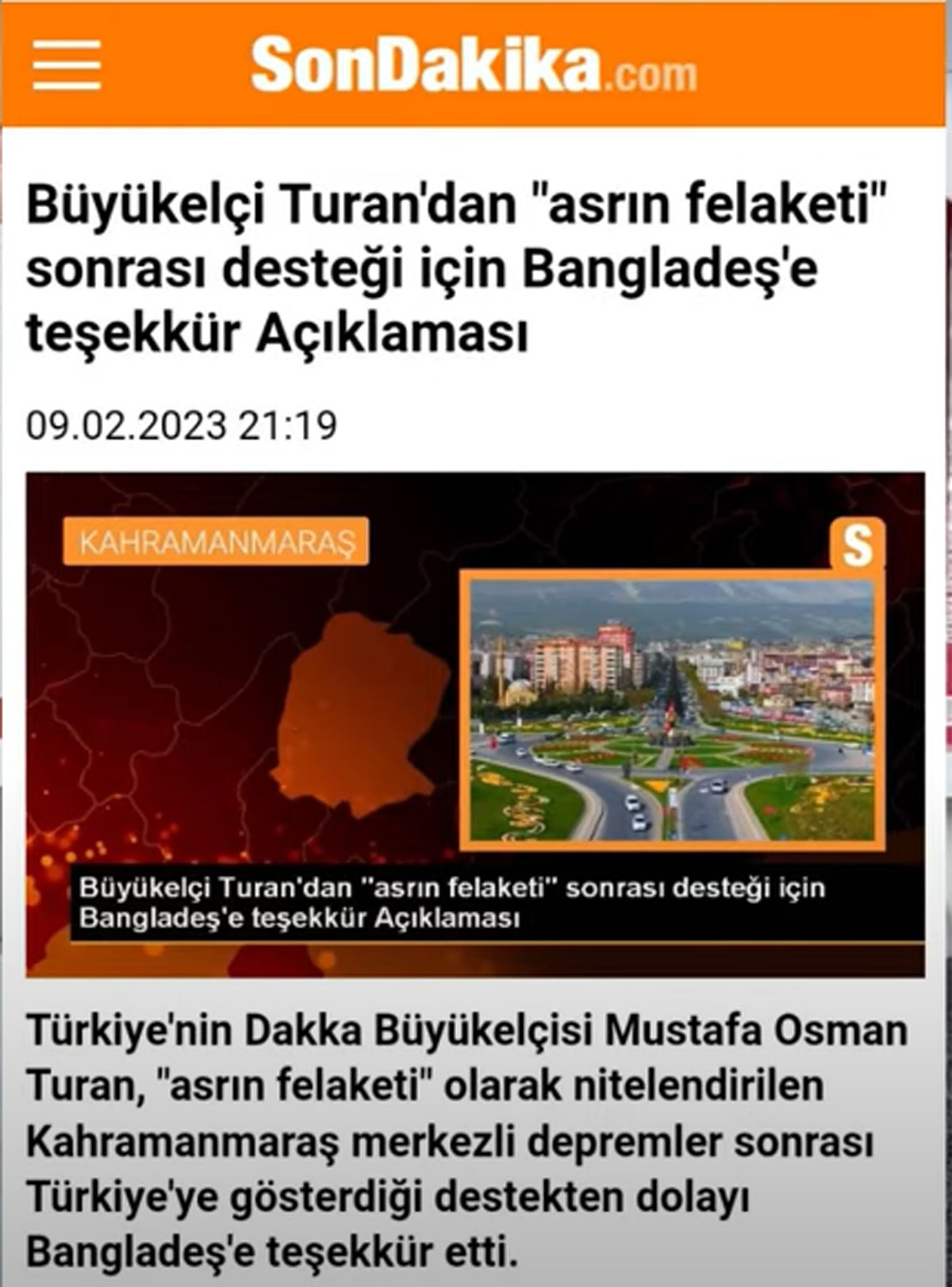 The Bangladesh coordinator of Tika Sevki Mert Baris said that the first shipment of Bangladeshi donations has already arrived in Turkey. Our first Turkish Airlines flight arrived in Turkey on Saturday morning with around five tons of essential items donated by Bangladeshis. Expect another shipment of about 10 tonnes to arrive.'
Expressing his satisfaction with the response of Bangladeshi citizens in this terrible disaster, he said, Cargo Airlines is expected to leave for Turkey soon with 100 tons of relief goods from Bangladesh. He also thanked the Bangladesh government for donating 10,000 tents.
Meanwhile, many Bangladeshis still cannot sleep properly after the terrible earthquake in Turkey. Scenes of destruction and the helpless faces of the victims, including tender children, flashed before them.
Earlier on Monday (February 6) a magnitude 7.8 earthquake struck near Gaziantep. Another 7.5-magnitude earthquake struck 12 hours later. The death toll in this incident is about 30,000. Six thousand buildings collapsed in Turkey due to the earthquake.