[ad_1]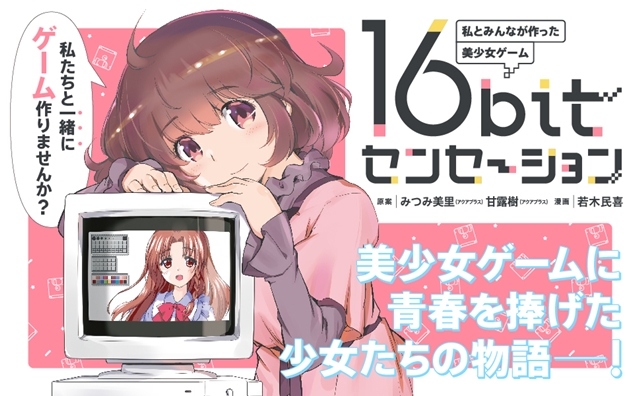 The official Twitter for the 16bit Sensation: Watashi to Minna ga Tsukutta Bishoujo Game (Bishojo game made by me and everyone) manga series illustrated by Tamiki Wakaki (The World God Only Knows) announced on December 31 that its anime adaptation is now in the works. Details on the production company and broadcast schedule have not yet been confirmed.  
The manga is a collaboration project by Wakaki and two members of Japanese visual novel/game company Aquaplus, Misato Mitsumi and Tatsuki Amazuyu. The two are legendary creators in the bishoujo game world who have designed and illustrated characters for the Utawarerumono series, and are credited as the manga's original concept writer. It was originally published as their doujinshi work, then its commercial edition has been published from KADOKAWA for two volumes since September 2020.
The story of the first volume is set in 1992 and centers on Meiko Uehara, a college student who begins a part-time job at a PC store. However, the store's management is only a temporary form. The main business of the store is a maker of bishoujo games. When one of the staff members ran away, Meiko, who can draw, is suddenly appointed as a sub-grafficker. But she has never drawn an illustration for 18-rated games before…? Will she be able to complete the game successfully?
㊗️アニメ化‼️

「16bitセンセーション」単行本1~2巻は好評発売中です✨

年末年始は16bitを読んで一緒に年を越しましょう~!https://t.co/c28ZeSRWy4 pic.twitter.com/jVJgFEnqnw


— 16bitセンセーション 公式@2巻発売中 (@16bitSensation) December 31, 2022
Tamiki Wakaki also announced the news on Twitter:
コミケお疲れ様でした。紙袋で初告知という感じでしたけど、16bitセンセーションがアニメになります。みんなで行こう、90年代!お楽しみに。#16bitセンセーション #16bit_anime pic.twitter.com/6cxvuPcM0w


— 若木民喜@10/7「結婚」アマプラドラマ開始 (@angelfrench) December 31, 2022
Manga 1st and 2nd volume covers: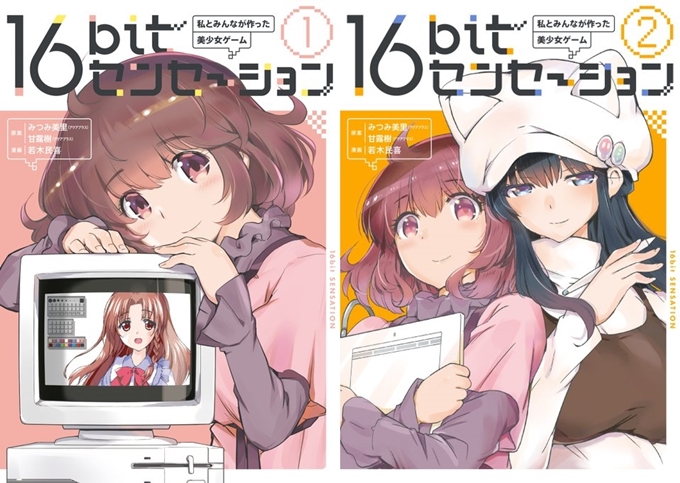 ---
Source: "16bit Sensation: Watashi to Minna ga Tsukutta Bishoujo Game" official Twitter 



[ad_2]

Source link