Mohun Bagan coach Juan Ferrando had to cancel his return flight ticket. He was due to fly back to Spain on Monday morning. But Ferrando's return home was delayed for the Chief Minister's event at the club tent.
Ferrando returned to the city on Sunday with the footballer after making the team the ISL champion. Mohan Koch had booked his return flight ticket for a few days on Monday morning. He had to cancel that ticket. Although he will leave the city on an evening flight on Monday itself.
Chief Minister Mamata Banerjee sent a message to Mohun Bagan Secretary Debashis Dutt around 5 pm on Sunday. He said that he will come to the club tent around 12 noon on Monday to watch the ISL trophy. I want to congratulate the coaches and footballers. After knowing the Chief Minister's wish, Mohan Secretary asked Ferrando to stay for Monday's function. The green and maroon coach accepted the request after hearing that the Chief Minister would come to the club to meet. He decided to catch the flight to Spain in the evening instead of in the morning.
Ferrando was sitting on the stage next to club president Swapan Sadhan Bose. Mohan Secretary welcomed the Chief Minister and presented him with a wreath. Mamata Banerjee gave the wreath to the coach without taking it herself. The chief minister gave the sweets given by the club to the green and maroon coach. The Mohun Bagan coach enjoyed the whole event by sitting on the stage. He was very happy with the enthusiasm of the supporters. However, he left the tent after the ceremony.
Advertisement


Read more:
The trophy returned to the marquee on the shoulders of the green-and-maroon crowd, as the excitement rose to see East Bengal on stage.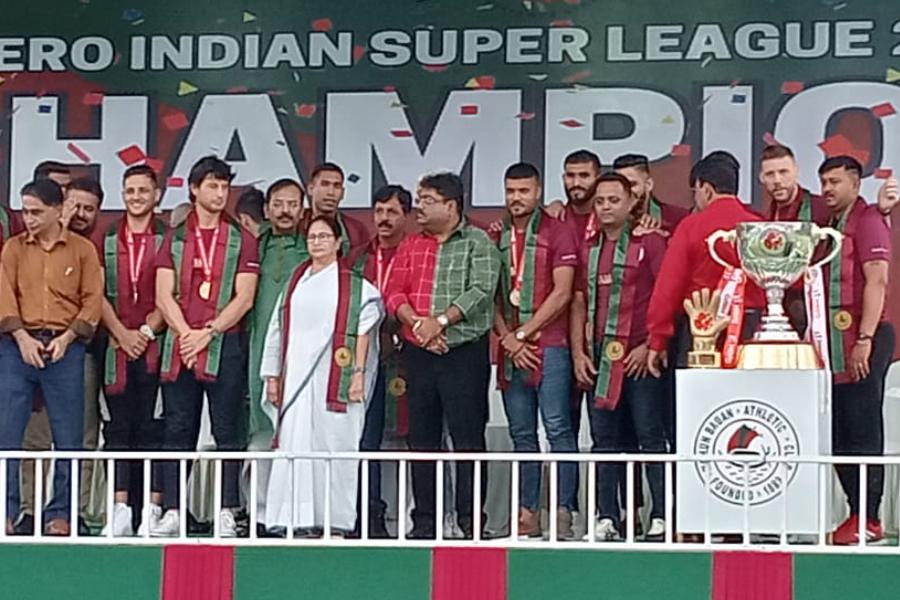 Mohunbagan Mohunbagan Mohunbagan-e, come to watch the ISL trophy, says the Chief Minister

Mohun Bagan will resume practice from April 2. After this, the ISL champions will play the Super Cup. Mohun Bagan coaches and foreign footballers will come to Kolkata by April 2. He will be training from that day or the next day aiming for his second trophy of the season. The main stage of the competition will start from April 8. The ISL champions will play directly in the main stage.