Chief Minister Mamata Banerjee did not forget the neighboring club East Bengal even when she came to welcome Mohun Bagan who won the ISL. Standing in the garden tent, the name of red and yellow rose in his mouth. The chief minister also explained the poor performance of East Bengal in ISL.
After congratulating Mohun Bagan, the Chief Minister mentioned East Bengal. A part of the audience screamed after hearing the red-yellow words on his face. Stopping them, Mamata said, "When they (East Bengal) started, it was too late. They could not build the team well either. Because they had financial difficulties. But Mohun Bagan has already played the game. Sanjeev Goenka is not short of money. They help in different ways. On the contrary, it has taken the club forward with additional help."
The vice-president of the club, Kunal Ghosh, had already informed that Mamata will visit the Mohun Bagan club on Monday. As such, everything was prepared in advance. From footballers to coaches of the ISL-winning team, everyone was present in the club tent. Debashis Dutta was the secretary of the club, Tutu Basura was the president. Bagan supporters gathered in the crowd.
Read more:
Chief Minister Mamata, Sports Minister Arup welcomed India's best footballers in the garden tent with sweets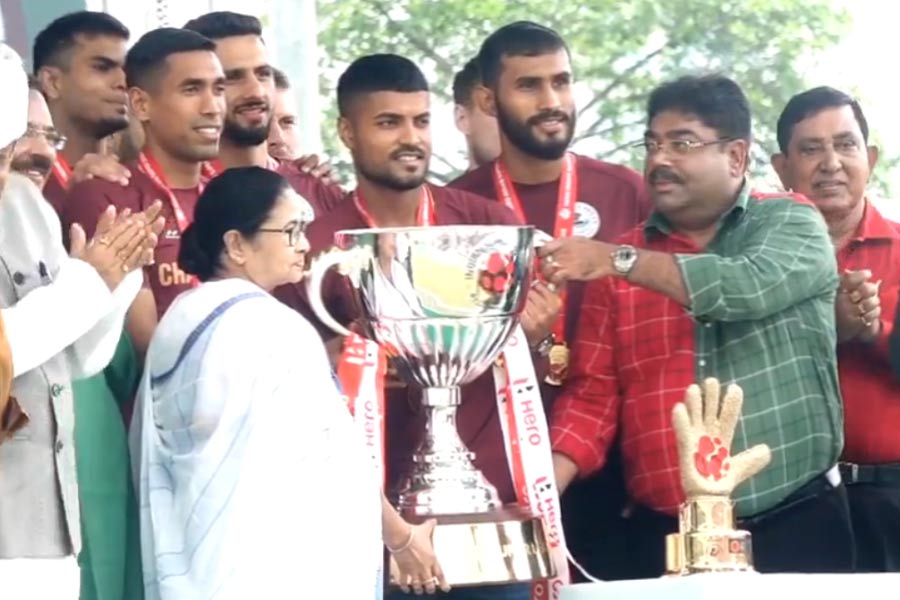 Chief Minister Mamata announced Rs 50 lakh prize to ISL champion Mohun Bagan

Mamata first went to the club and gave sweets to Bagan captain Pritam Kotal and coach Juan Ferrando. The club owners handed over the ISL trophy to him. Mamata holds Bagan goalkeeper Vishal Keith's golden gloves. After that, the Chief Minister welcomed all the footballers one by one. East Bengal officials also went to the Mohun Bagan tent. They also congratulated the neighboring club.
Advertisement


Mamata rewards Mohun Bagan with Tk 50 lakh for winning ISL. The chief minister said, "I came here last year. I built the club beautifully. Our government has improved all the three clubs of Bengal. Today I am giving another Rs 50 lakh from the state government for sweets for the supporters and for the development of the Mohun Bagan club. I will tell Arup to give the money."